Model #LAMBLCL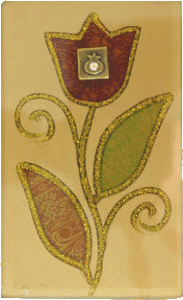 Beautiful colorful elegant and decorative matchbox, hand-made of glass by Lily Art, with a tulip theme and a small pomegranate applique.
The match box measures 4½ by 3 by 1 inches (11½ by 7½ by 2½ centimeter).
This matchbox will add a festive touch to your Shabbat-table. A great gift idea.