Model #LAHDRPO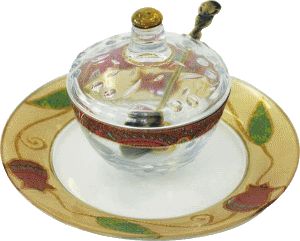 Brown elegant honey dish with a round shape and a pomegranate theme, hand-made of glass and crystal by Lily Art.
To beautify the honey-dipping custom during the High-Holidays (Rosh Hashanah and - according to many customs - also Sukkot), many people use a special honey dish.
The Rosh Hashanah set includes a honey dish with lid, matching tray and a serving spoon.
The honey dish measures 4 inches (10 centimeter) deep while the matching tray is 7½ inches (19 centimeter) in diameter.
This honey dish will add a festive touch to your Yom Tov meals. Great gift idea.