8-Fold; Available in Ashkenaz only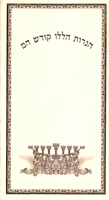 הנרות הללו קודש הם
Style
Folded in eight (8), a classic cream background, with a light gold Menorah design.
Content
Full program includes Berachot/ברכות, and some Zemirot/זמירות.
Added in the end is the full Birchat Hamazon / ברכת המזון, making it most useful when given as a souvenir at a Bar Mitzvah, Bat Mitzvah, wedding, Chanukah party, etc.
When clicking on the picture, you can see inside sample pages.
Personalization
Get this Chanukah Sameach personalized. Make your event memorable with this souvenir. Every year when used during Chanukah, your guest will read on the cover that they got it at your wedding, Bar/Bat Mitzvah, etc.
See all personalization options.