Includes Birchat Hamazon and Sheva Berachot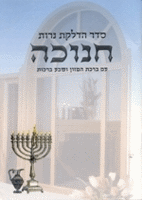 סדר הדלקת נרות חנוכה
עם ברכת המזון ושבע ברכות
Style
Booklet with full-height door-window, with a traditional Menorah near it. Blue theme.
Content
Full program includes Berachot/ברכות, and some Zemirot/זמירות.
Added in the end is the full Birchat Hamazon / ברכת המזון, making it most useful when given as a souvenir at a Bar Mitzvah, Bat Mitzvah, wedding, Chanukah party, etc.
Also added are Megilas Antiyochut and Tefilas Haderech.
Personalization
Get this Chanukah Sameach personalized. Make your event memorable with this souvenir. Every year when used during Chanukah, your guest will read on the cover that they got it at your wedding, Bar/Bat Mitzvah, etc.
See all personalization options.