The Chanukah Story and Candle Lighting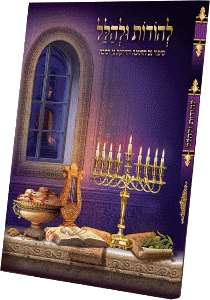 להודות ולהלל: סיפור נס החנוכה והדלקת נר חנוכה
This fully illustrated book, L'Hodot U'Lhalell: The Story of the Chanukah Miracle, will take you back in time, to the times of the Second Beit Hamikdash, the story of Chanukah turns into life when its so dramatically written and has the colored pictures that will keep young and old inspired till the very end. The story is perfectly divided into eight sections to be read through the eight Chanukah days.
To fulfill the spiritual joy of this book to the fullest on the eight days of Chanukah for the entire family, this book contains Halachot and Minhagim that apply on Chanukah, Hadlakot Neir Chanukah, Songs for Chanukah and Birchat Hamazon.
Enjoy and Happy Chanukah
Personalization
Get this Lehodot Ulehalleil (להודות ולהלל) personalized. Make your event memorable with this souvenir. Gift it as a gift, and see the smile on their faces.
See all personalization options.