All-in-One; Ashkenaz only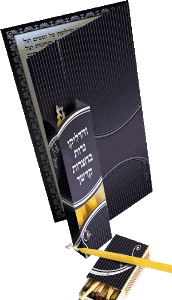 והדליקו נרות בחצרות קדשך
Perfect for Chanukah gift-giving and get-together (wedding, Sheva Berachot, Bar Mitzvah, Bat Mitzvah, fundraising, party, etc.) Includes full Chanukah Zemirot as well as Birchat Hamazon / ברכת המזון, a matchbox, and eight (8) long candles.
Personalization
Get this Paperback Hadlakot Neirot Chanukah personalized. Make your event memorable with this souvenir. Every year when used during Chanukah, your guest will read on the cover that they got it at your wedding, Bar/Bat Mitzvah, etc.
See all personalization options.