הדלקת נרות חנוכה #576 - להודות ולהלל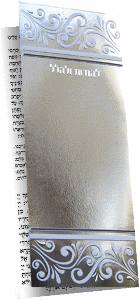 Two-fold attractive silver metallic Hadlakat Ner Chanukah, named Lehodot U'Lehaleil with Zemirot for Chanukah.
Includes the Berachot recited before lighting the Chanukah candles along with the Zemirot.
Great discounts for quantity orders
Personalization
The Folded Hadlakot Neirot Chanukah צakes a great elegant souvenir for any event like Bar Mitzvah, Bat Mitzvah, wedding, Chanukah party, fundraising or any gathering before or during the Chanukah season. Get this personalized. Every year when used during Chanukah, your guest will read on the cover when and where they got it...
See all personalization options.