שעריו בתודה מאת הרב שלום ארוש; Hebrew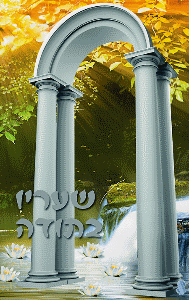 Learn how the redemption is dependant on giving gratitude to the one above.
כונת חבור זה, ללמד את עם ישראל את היסוד הנפלא הזה, ללכת עם תודה! כי התודה תביא את האדם למדרגה הרוחנית הראויה לו, ותפתח לו את כל השערים שישנם: שערי שמחה, שערי פרנסה, שערי זיווגים, שערי רפואה שלימה, שערי תורה ותפילה וכו' - כל מיני שערים שאנו מבקשים שיפתחו לנו, התודה היא המפתח לפתוח את כל אלו השערים ועוד כהנה וכהנה שערים, ככל העולה על דעתו של כל אדם.
כל מי שילך בדרך של ההודיה בתמימות, ידע שודאי הוא יפעל ישועות וימתיק את כל הדינים. וזה עיקר העבודה שתביא לגאולה הפרטית והכללית, לעקור את מידת הבכינות וכפיות הטובה, ולעבוד על הכרת הטוב ועל הודאה והלל ושבח להשי"ת, ובזה יתוקן הכל ונזכה לגאולה השלמה. כי בהודיה תלויה כל הגאולה, שיכולה להיות קלה מאוד ונעימה בזכות ההודיה!!!
מאת הרב שלום ארוש שליט"א, מחבר הספרים בגן האמונה המבואר, בגן השלום ועוד.
כריכה רכה. מומלץ ביותר, ספר חובה בכל בית!!!