A Practical Guide to Financial Success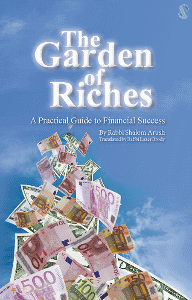 In medicine, they say that a good prognosis is half the cure. The same principle holds true in finances. With that in mind, as soon as you lay your hands on your new copy of The Garden of Riches, half your financial woes will be over. This is a book with loads of advice that the best advisors on Wall Street won't be able to give you. With The Garden of Riches, you tap into the unlimited financial reserves - Hashem's. Learn how a weak economy and a recessive job market have no bearing on you whatsoever. Learn how to escape from the most seemingly hopeless debt situations. Find out how to have enough for everything you need.
The Garden of Riches – A Practical Guide to Financial Success by Rabbi Shalom Arush is the English-language version of בגן האושר, translated by Rabbi Lazer Brody. This book has already become immensely popular in Israel. It's an amazingly enjoyable, reader-friendly and informative guidebook for attaining an adequate, stress-free income and a debt-free life; this is no small blessing in light of the global economy crumbling all around us.
Rabbi Shalom Arush's track record of helping people is no less than phenomenal. His internationally-acclaimed The Garden of Emuna has helped millions of people live better lives. His respective marital manuals for men and women - The Garden of Peace and Women's Wisdom - have virtually deflated ballooning divorce statistics, both in Israel and abroad.
This book will undoubtedly improve your income too. Whether you've a professional, an independent businessperson, a salaried worker or a student, The Garden of Riches will surely become your trusty companion and practical guide to a pleasurable, worry-free livelihood.