פאלטשע געפלאכטענע עטרה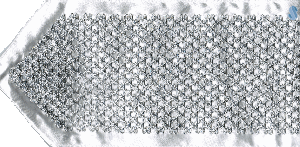 Woven braided (Geflochtene) Atara / Neckband. Not made of real silver.
Attaching this Atarah onto a Tallit
You may add the service of sewing on a Atarah onto a Tallit to the cart if you want it done. If you are purchasing more than one Tallit, please indicate in the comments box (during checkout) which Talis you would like this Atara sewn on to.