Seal Your Atarah; Make it Look New Again!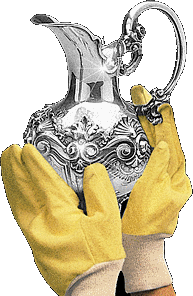 Silver Atarot, when properly maintained, will yield prayers of majesty. But to self-maintain, you'll requires a lot of understanding and experience, not to mention hard work and handling unwanted chemicals.
What's Included?
Polishing the Atarah
When you sent us your Atarah, we firstly dissemble the Atarah from its underlay (satin, velvet, etc.), and polish the silver thoroughly.
Lacquering the Atarah
Lacquering or waxing silver retards tarnish formation. Without lacquer, the Atarah will tarnish in no time. However, lacquering is the hardest part of the job, as it is very difficult in obtaining an even coating of lacquer. If the coating is uneven, when the object re-tarnishes, it looks worse (with a white-milky powder) than if no coating had been applied at all.
Reassembling the Atarah
After the Atarah passes our quality-control inspection, we reassemble the pieces onto the lining (satin, velvet, etc.) and your Atarah now looks almost brand-new!
Repair
Repairing bent pieces or replacing missing or damaged pieces is not included with this service. If and when we realize that some pieces are missing or damaged, we will contact you to quote a price to repair or replace.
Price is per column
Please add the amount of columns in the quantity box, prior to adding this service to the shopping-cart.
Directions
Once you complete your order, ship us your Atarah with the order number written on a paper.
If the Atarah is attached to a Tallit, and you want us to detach and reattach it, also add the Atarah Sew-on service to the cart.