The "Smile With Avigayil" Series: Book 2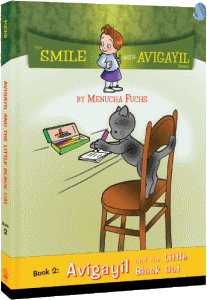 A black cat suddenly appears in Avigayil's room and scares her right out of her house! Her mother, father, brothers and sister try all day long to get her to come back inside, until the little black cat finally does it, all by himself ...
The Smile with Avigayil series is ideal for early readers. Its adorable pictures and characters, simple sentence structure and frequent chapter breaks make it the perfect choice for developing young minds.
Written by Menucha Fuchs;
Illustrated by Esti Haas;
Translated by Gavriella Tager;
Edited by Toby Cohen;
Proofread by Hadassa Goldsmith.
Read the Table of Contents