טוב להודות עם תהילים מחולק - כריכה קשה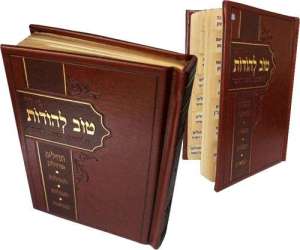 See Large View | Index | Open Book
The Tehillim, divided in alphabetical order. Elegant leather-like cover with tabbed index (like a phone-book).
A comprehensive collection of many different prayers, Segullot, and Bakashot.
Perek Shira
Shir Hashirim
Nishmat Ko Chai
Igeret Huramban
Tefillat Hashlah
Tefillot Avot Al Bonim
Parshat Hamon
Shema
Birchat Hamazon for Ashkenaz and Sefard
Birchat Hamazon for Eduth Hamizrach or Sephardic Jews
Full Tehillim
Special Prayers for Before and After Tehillim
Tefillat Haderech
Segullah to Find a Lost Object
Prayer Before Giving Charity
Prayer Before Hafroshat Challah
Hadlokat Neirot
Prayer for Your Business
Prayer for Luck
Read the Hebrew product description.