Developing Faith and Trust in G-D in Our Turbulent Times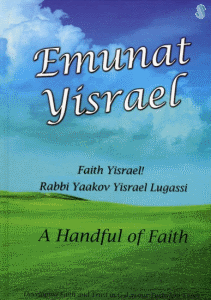 Faith Yisrael!
Emunah in Hashem needs continual strengthening. There are many forces working against it, the senses mislead a person to think that all the world events and personal experiences are the result of nature. By chance, nature, and according to the laws of money loss and gain, laws of Medical used in this and similar other facts in regard to the outside world, we see that nature and chance are dominants. The providence of Hashem is hidden, and a person has to deny the chance and nature of things, in order to perceive that all in the world stems from Hashem's providence.
We have merited a wonderful Sefer composed by Harav Yaakov Yisrael Lugassi. He is a graduate of Yeshivat Kol Torah in Jerusalem. His Sever contains the way to acquire faith and belief. It shows how to take hold of every aspect of life, and to keep away from the power-based and materialism of things. It is based on the work of our rabbis, the geniuses of Mussar.
Harav Yaakov Yisrael Lugassi expounds in on themes of belief and reliance on Hashem, and how to put in into practice. To his credit, he has more than fifty (50) books on various subjects that were received with love in the entire world.
Translated and adapted by Rabbi Yerachmiel Daykin.