A 5-Volume Hardcover Set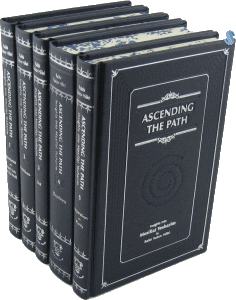 One of the most influential works of Mussar, the Mesillat Yesharim is Rabbi Moshe Chayim Luzzatto's instruction manual for the correction of character flaws and refinement of one's service to the Al-mighty, based on well-known teachings of our Sages.
It presents a structured program for those seeking to walk the proper path leading to perfect service of the Creator, while making the most of the tools G-d has given us in order to achieve the best possible spiritual results.
In this beautifully bound, compact 5-volume set, Rabbi Yaakov Hillel, Rosh Yeshiva of Yeshivat Ahavat Shalom in Jerusalem, highlights and expands on Rabbi Luzzatto's thoughts and methods, showing how they can be applied to the everyday situations, trials and tribulations we all encounter.
Ascending the Path clarifies and defines the relevance of the Mesillat Yesharim to our daily lives and includes many new concepts and explanations to aid the reader's progress along the path of the just.