קונטרס לקיחה תמה: על ענייני לקיחת ארבעת המינים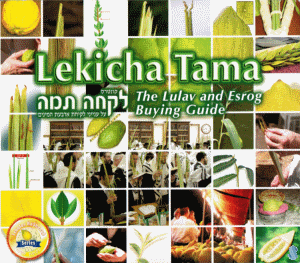 The Lulav and Esrog Buying Guide is like having an experienced and entertaining tour guide to walk you through the Arba Minim / ארבע מינים (buy) market and give you all the information you need to choose Minim with confidence.
Larger View | Inside pages | Credits
With fluency in the Halachot and the common sense approach, Avrohom Reit has written a user-friendly manual that is practical, interesting and enjoyable, even for those who are intimidated by the task at hand. The Halachot relevant to today's shopper are carefully chosen and are presented clearly, in simple language, with beautiful photographs to illustrate them. Lines are carefully drawn between minimal requirements and Kashrut, Chumrah, and Hiddur Mitzvah. (What's the difference?) History, botany, practical tips and anecdotes from Gedolim are all neatly woven through text, expanding the reader's understanding and skills.
Appealing to first-time shoppers as well as those with years of experience, The Lulav and Esrog Buying Guide presents a wealth of information, organized in the order in which it is likely to be usefull. Whether it is used for a quick and easy review before shopping, or as a complete do-it-yourself guide, The Lulav and Esrog Buying Guide is a valuable new resource for the Arba Minim / ארבע מינים buyer.