Also includes Belt, Jacket, and more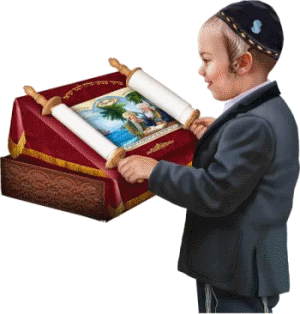 Comes with Bima and Aron Kodash, and Belt and Meteleh. Your kids will love this one! This set is like nothing you've seen before!
This Sefer Torah has beautiful pictures of the weekly Parshah. It's combined with a Bima and an Aron Kodash for the kids to play as if they are in Shul.
Larger View | Inside View | Watch Video
Tags: Children's Sefer Torah, Children's Torah, Children Sefer Torah, Children Torah, Children's Play Sefer Torah, Children's Play Torah, Children Play Sefer Torah, Children Play Torah, Pretend Sefer Torah, Pretend Torah, Toy Sefer Torah, Toy Torah, Play Torah, Play Sefer Torah, Aron Kodesh, Shtender, Bimah, Jacket, Belt, Menteleh, Amud, Stender, Graphics, Images, Aron Hakodesh, Torah for Simchat Torah, Torah for Simchas Torah, Illustrated Sefer Torah, Illustrated Torah, Illuminated Sefer Torah, Illuminated Torah, Upshern, Gift, Upshernish, Upsherenish, 3-Year Old, Package.
Product Features
Beautiful colorful graphics on every week's Parshah
Play Bimah (Shtender/Stender) and Aron Kodesh (Housing) enclosed
Play Belt and Jacket (Menteleh)
Protective plastic jacket.