By Joel Waxberger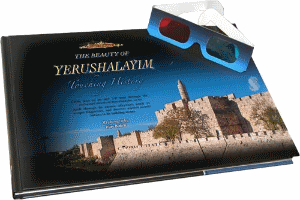 Come, join us on our 3-D tour through the enchanted streets of Yerushalayim (Jerusalem), as we stroll through its narrow alleyways, smell its unique fragrances, and discover ancient secrets hidden in its building stones.
In Jerusalem, even the stones have a special aura. The houses, alleyways, towers and city walls reflect amazing images from the past, unmatched by any other city in the world! Every corner of Yerusholayim whispers secrets of its rich history. It is the Holy City; it is the capital of the nation of Israel. Its stones bring the nation's story to the fore - the events in the past, the tapestry of the present, and hope for the future.
The Beauty of Yerushalayim is part of a series of high-resolution photographs produced with the most-modern technology. The result are a collection of photographs that jump out at the reader in three-dimensions (3D), making a far greater impression than ordinary photographs would. Each photo consists of a number of layers, so that the magic begins from Gelis up and continues to the farthest horizon.
Also on this project: Rabbi Yisroel Gliss, a veteran resident of Jerusalem, guides you through all the sites of the Holy City in a professional manner. In fact, even if you choose to actually travel to Jerusalem, you could use this book as a guide as you make your way through its winding streets.
This English edition was translated by Rabbi Moshe Mizrahi and Rabbi Avie Gold. Rabbi Gold also served as contributing editor of the English version.