Great for Synagogues - Wholesale Pricing on Quantity Orders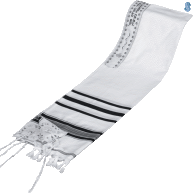 Get it for less than $16
Traditional Talis made of polyster, very light and comfortable. The fringes are just like in the wool.
The Ultimate Basic Synagogue Prayer Shawl
This astonishing Tallit come with the traditional black stripes, accompanied with silver outline-stripes.
Various sizes are also available to fit you best for the most comfortable feeling.
Height is measured from Atarah down; width measured from left to right.