Marriage; Taharat Hamishpacha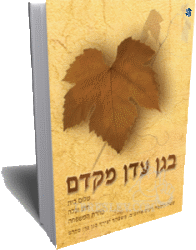 בגן עדן מקדם ע"י הרב שלום ארוש
Discussing domestic harmony, Chasan-Kallah relationships, and Taharas HaMishpacha, Rabbi Shalom Arush presents excellent advice how to peacefully navigate one's home according to the Torah, based on shiurim that he has delivered. Additionally, relevant halachos of Taharas HaMishpacha and the sanctity of the Jewish home are provided, all in a simple, understandable style, with explanations and introductions to each chapter.
הנהגות והדרכות ישרות לבני זוג לחיי שלום ושלוה.
הכולל בתוכו הלכות טהרת המשפחה וקדושת הבית היהודי.