For Men Only: A Priceless Guide That Will Transform Your Marriage!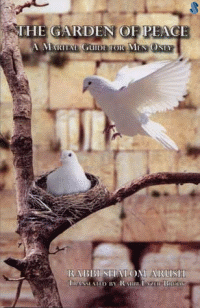 Take a stroll through a delightful and refreshing garden, where tranquil thoughts, soothing words, and brilliant insights abound. This eye-opening book, written for men only, is the first of its kind. Direct, honest, down-to-earth, and practical, it describes the true path to peace between a husband and wife. There is no talking-down, no self-righteousness, and no ambiguity in these pages. Instead, the shining light of truth mingles with the sparkling call of hope, making the reading of this book a life-changing experience.
The Garden of Peace by Rabbi Shalom Arush and translated by Rabbi Lazer Brody is the English-language version of B'Gan HaShalom, a book that has become an overnight best-seller in Israel. This is an amazingly enjoyable and practical guidebook for men that want to be winning husbands. An old adage says that winners don't need to make excuses why they won the game, yet losers are full of excuses why they lost the game. In that vein, Rabbi Shalom Arush's track record is no less than phenomenal – he's a winning marital coach with a better track record than any marital counselor alive. His advice, girded firmly in the foundations of Talmudic and Jewish esoteric thought, is crystal clear and reader friendly. Any man that implements Rabbi Shalom's advice is bound to see a major subsequent improvement in his marriage. This book will undoubtedly improve your marriage too. Whether you've already celebrated your Golden Anniversary or whether you've just started to contemplate marriage, The Garden of Peace will quickly become your trusty companion and guide.
Women's Wisdom is the woman's version of this book