100 Rabbinic Tales of the Holocaust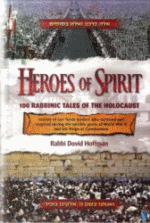 ואנחנו בשם השם אלוקינו נזכיר
Stories of our Torah leader who survived and inspired during the terrible years of World War II and the Reign of Communism.
Finally, a volume that focuses, not on the horrors of WWII, but rather on the response of rabbis, lay leaders and ordinary people, who came face-to-face with extraordinary crises of epic proportions. Read and be inspired by the heroism of the human spirit, tempered by the wisdom and the values of our eternal Torah.
---

Read a review by Reb Yosef Friedenson.
See also responses to the review.