Multiple Options Available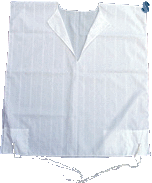 Arba Kanfot / ארבע כנפות (also known as Tzitzit/ציצית/Tzitzis) made of 65% cotton and 35% polyester, for adult sizes. Comes with the V-Neck, and with Two (2) holes only.
High Quality Kosher Permanent-Press Tzitzit Garment Durable and easy to wash
Made in Israel, meeting the strictest standards of Jewish Law. The tag attached is provided by the manufacturer and certifies it as Kosher.
Custom Orders
The following options are considered to be a custom order that may take a little longer to ship, and cannot be returned or exchanged.
Thick Avodat Yad Tzitzit-strings
Any type or size of Techelet (תכלת)
Any size of Menupatz Lishmoh (מנופץ לשמה)
Adding Kesher Shel Kayama / Permanent Knot