The Battles and Triumphs of Devorah HaNaviah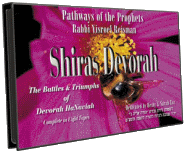 Devorah led the Jewish People in the courtroom, to the battlefield and in Song of Thanksgiving.

Rabbi Yisroel Reisman brings the lessons of her life to today's world. The extraordinary story of a special time in Jewish history comes to life in this 8-CD set.
Be inspired by this most unique leader. Listen, as Devorah's message resonates across time, full of lessons for our lives, our battles, our songs of thanksgiving!!!