From the "Praying with Fire" Series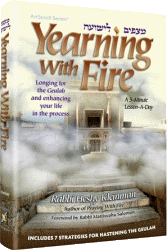 Longing for the Geulah and Enhancing your Life in the Process
From the author of Praying With Fire comes another groundbreaking, life-transforming 5-minute-a-day program: Yearning With Fire
We all know that a Jew is obligated to mourn the destruction of the Holy Temple. But how many of us understand that by longing for redemption we not only bring redemption closer, we also enhance and improve our lives today - at a time when there are so many daunting issues facing individuals, communities and Eretz Yisrael.
By longing for redemption we bring the Divine Presence closer to us, and so bring a great flow of blessing into our lives -- even before the Final Redemption arrives.
How do we do it?
Rabbi Heshy Kleinman, whose Praying With Fire books changed the way a generation opened its hearts to God, now turns his insightful eye and talented pen to the vital topic of redemption - the ultimate redemption that we await as a people, and the personal redemption that each one of us looks for in his daily life.
In 5 minutes of study a day we learn strategies that will help us hasten the redemption; strategies that will teach us how to achieve Ahavas Chinam, the unity and love for one another that will bring Mashiach. In 5 short minutes a day we learn to enrich our prayers, our charity, our Torah study, our Shabbos observance, and our desire for repentance - all important elements in our longing for redemption.
All tragedy begins with the Shechinah in exile. And all salvation, all good, begins with our yearning to see that exile end. Yearning With Fire, with its wonderful combination of strategies, stories, and scholarship, helps us bring salvation - personal and national - into our lives.