Cooking for the Next Generation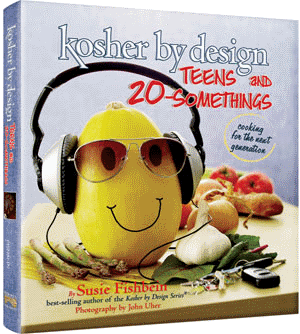 This seventh volume in Susie Fishbein's bestselling Kosher by Design cookbook series brings cooking wisdom and party planning guidance to a new generation of at-home entertainers. Featuring recipes that are fun, diverse, healthful, requiring no special equipment and easy to make, this is the perfect cookbook for even the simplest kitchen.
Susie says, This is a cookbook that's been years in the making as I've considered how to make home cooked meals an exciting alternative to the fast food culture. Now anyone — from teens and up — can savor the delicious rewards of foods you'll make that'll have your family and friends clamoring for more!
100 delectable brand new recipes
Over 100 full color photos
Over 240 pages
Healthy ingredients for delicious dining in
Comprehensive cross-reference index
Inspiring youth-oriented entertaining ideas: The Big Game Baseball Theme Party, Board Game Night, Arts and Crafts Party, Backyard Bash
Pre-Order Today