A Real-Life Experience with Postpartum Depression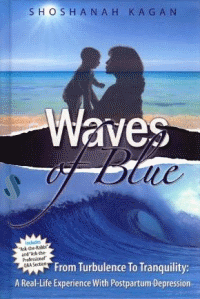 From Turbulence to Tranquility: A Real-Life Experience with Postpartum Depression
It should have been a most joyful time in Shoshanah Kagan's life. So why was she feeling the exact opposite of joyful - like she was in the depths of a black pit, with no way out?
Waves of Blue is the story of Shoshanah Kagan, a devoted young Jewish mother's, experience with Postpartum Depression.
Sensitively and accurately, it chronicles each step of her heart-wrenching journey, from the start of her horrific symptoms; to her feelings of denial, guilt, and shame; to her eventual acceptance of her situation; to her ultimate recovery.
Also included is an entire informational section on PPD, written by distinguished medical professional, including psychiatrist, OB/GYN, and pediatrician, as well as an "Ask the Rabbi" section pertaining to the Torah perspective on this illness.
This story of a young mother's heroic struggle and eventual triumph over adversity will benefit anyone who reads it.