Model #2432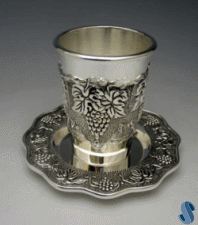 This silver-plated Kiddush Cup has a beautiful grape design.
This Kiddush Cup has no stem, and comes with a matching tray.
Detailed Description
The cup is has large grape-bunches engraved.
The tray has a zig-zag shape for the outer border, and a matching grape theme.
Discounts and Promotions
Wholesale and discounted prices are available when purchased in quantity.