Wallet-sized; Fits Anywhere!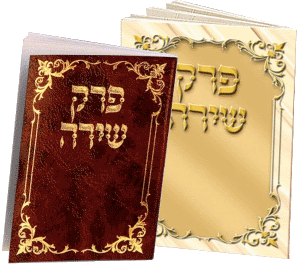 Good things come in small packages, they say. And that is absolutely true with this adorably petite Perek Shira booklet.
Includes:
Perek Shira,
Birchat Hamazon / ברכת המזון in Ashkenaz/אשכנז and Edit Hamizrach / עדות המזרח,
Sheva Brochos,
and Me'en Shalosh.
With lovely gold designs on a cream or brown cover, gold stamping looks pretty as anything. Use as a most creative and appreciated souveneir or gift!!!
About Perek Shira
Perek Shira is the song that is sung every day by all of Hashem's creations in the realms of Domem, Tzomeyach, and Chai. It is believed to have been authored by none-other than Dovid Hamelech himself, who (like the Holy Ba'al Shem Tov) had the power to converse with animals.
Get it personalized