Wholesale Discounted for quantity orders of 60+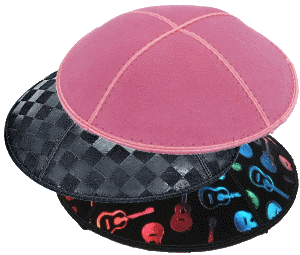 See Color Charts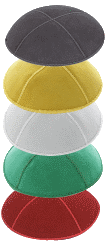 Selections and Prices
Please choose your color below. See the color chart
After choosing the color, you may choose a embossing style and a foil-color. More »Here is a image-gallery of most styles, sorted by color. « Less
Next you choose the trim of the Kippah. More »By default, the trim is made of a matching color scheme of the Kippah itself. Here is a trim chart. To upgrade to another color (or color-combination) of the trim, the price will increase. « Less
Next you may choose a size. More »Almost all suede Kippahs sold are mediums, so when ordering for other people (in oppose to buying for oneself), although many different people may have different sized of heads, you would usually want to get all in medium. Please note, upgrading or downgrading a size may change the price. « Less
Please note that order with a quantity of less than 60 will be canceled.
Personalization
Personalization is available for this item. Please call for additional information
Notes
Please note: Color representations on your screen could vary from actual fabric. Colors also vary with each order, shipment, and lot.
Please note: Certain color/style/foil/trim/size combinations may not be available.
Please note that it may take 2 to 4 weeks to create and ship any customized order.