A Collection of Favorite Recipes from Binah Magazine for Jewish Women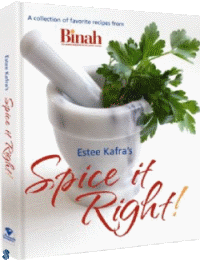 For over two years now, thousands of readers have been using and enjoying the weekly recipes published by food editor Estee Kafra of Binah Magazine. These recipes are refreshingly different, yet easy to master. They are simple, yet tastefully elegant. But what truly defines Estee's signature style is the rich flavor and exciting taste infused into each and every dish.
The secret that Estee shares in this book is how to use fresh herbs and spices to take your cooking to the next level. You will be surprised how dishes you thought ordinary change dramatically with the infusion of a bold new flavor. Incorporating herbs and spices properly into your regular cooking and baking is what makes the difference between ordinary and gourmet.
With a full color photograph for each tantalizing dish and clear instructions that are easy to follow, you are sure to find many new ideas you will use time and time again. Recipes such as Fancy Rolled Sole, Thyme Roasted Chicken and Cappuccino Mousse will stand out at any formal meal, while other simpler ones like Grilled Acorn Squash and Chicken Ball Soup will enhance your everyday menu. Celery Root Latkes and Hamantashen are some of the seasonal recipes that are bound to become family favorites.
In her easygoing style, the author guides her readers through special tips and techniques for using various herbs and spices, while learning about their different qualities and flavors. Herbs such as Italian parsley and rosemary are highlighted throughout the book, and spices like cinnamon and peppercorns are used often. As a helpful bonus, a detailed chart is included, outlining the proper way to check fresh herbs to ensure they are clean and kosher for easy use.
These recipes are tried and true - not only by Estee herself, but by her many Binah readers, whose positive feedback has helped to form the basis for this exceptional book. The selections printed are all acclaimed favorites.
Enjoy an exciting foray into the world of flavor and flair. Discover how to Spice it Right!