The All-Season, All-Reason, Kosher Cookbook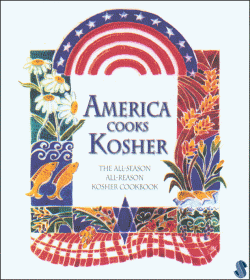 Featuring over 300 recipes. This timeless treasury combines the customs of kashrus with today's contemporary lifestyles, transforming the daily routine of eating into a delectable dining experience. Featuring recipes for gourmet dinners, quick and easy meals and holiday menus.
From the Author
America Cooks Kosher blends traditional Jewish tastes with modern ingredients and recipes, thus bringing together the old and the new. This wonderful collection includes 320 outstanding recipes, as well as kosher cooking trivia, personal family anecdotes and holiday menus. Readers will undoubtedly refer to it for American celebrations, Jewish holidays, gourmet and everyday dining alike. Each of the recipes and stories is a timeless treasury and a legacy to pass on to future generations. Make this special Kosher collection a major ingredient in your family's memories, traditions and happy occasions
From the Inside Flap
Food. There's nothing quite like it -- a universal language that unites us all regardless of faith. Comforting memories, lingering aromas and favorite flavors, create special bonds, bridging and connecting the generations through the love of food. From the Seder table to the Super Bowl party, the cholent crock pot to the bar-b-que grill, America Cooks Kosher premieres an outstanding collection of traditional and modern American and Jewish recipes that are certain to nourish your palate as well as your soul.