Bereishis, Shmos, Vayikra, and Bamidbar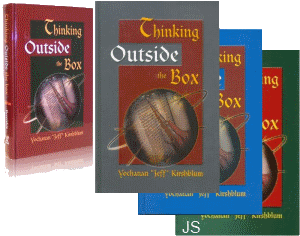 Thinking Outside the Box is a unique Torah commentary that expresses the author's belief that the Torah should not only appeal to the intellect, but must also appeal to the heart of every Jew as well. In his belief that the message of Torah should reach a broad readership irrespective of the level of Jewish education, Jeff Kirshblum makes his material easy to read, yet inspirational in content. To underscore his points and illustrate his lessons, he relates anecdotes ranging from events in ancient Jewish history to personal stories in his own life.
A fresh, exciting new look at the Torah. Age-old lessons and truths translated into our contemporary, modern day lives. A book you will enjoy to read, as your heart - and mind - open wide to receive words written from the heart, to the heart of every Jew.