Undershirt Tzitzit - T-Shirt Tzitzit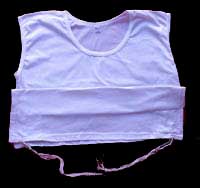 T-shirt (tee shirt) style Tzitzis with stitched down sides
The popular PerfTzit tzitzis includes the following features:
Wears like an undershirt.
Features a wide round neck
Pre-shrunk 100% Cotton T-shirt fabric for winter and summer comfort.
No-Frey Tzitzit-strings.
Tzitzis tucks into special pockets for safe and easy washing.
Great for sports.
Very comfortable; You'll feel fresh and composed all day!
Comfort and Neatness - All in One garment
Read about the brands and Hechsher.
Custom Orders
The following additions, make it a custom item. Custom items may take a few days to assemble, and cannot be returned or exchanged:
Thick Tzitzit
Any kind of Techelet (תכלת)
Menupatz Lishmoh (מנופץ לשמה)
Kesher shel Kayama (קשר של קיימא)
Quantity Orders
On regular Meyuchad strings only: get great discounts when ordering 5 or more pairs. Get even greater specials when ordering 10 or more. Simply add the quantity to the cart, and watch the price plummeting...