שטר כתובה - פריחת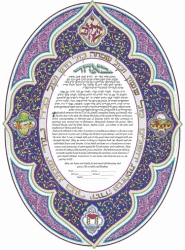 This Blossoms Ketubah features oriental colors and motifs highlighted by scenes from Israel. The text is circumscribed by gold embossed lettering of blessings recited under the Chuppah.
Individual monograms and color changes, has additional costs. See below.
A personalized Ketubah order should be placed at least three (3) weeks prior to the wedding. If the wedding is not in the United States (USA), please allow additional time for delivery. We do rush jobs in less than 3 weeks for a 15% additional cost.