עטרה ארוג כסף - געפלאכטענע עטרה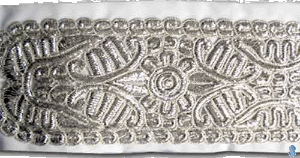 Enhance your Tallit see selection with this exquisite hand-woven (braided; Yiddish: Geflochtene) Atarah. This Atarah uses pure silver thread to weave this intricate pattern. Truly one of kind his beautiful design will make an Tallis stand out.
Lacquered for tarnish resistance mounted on rayon satin fabric.
Attaching this Atarah onto a Tallit
You may add the service of sewing on a Atarah onto a Tallit to the cart if you want it done. If you are purchasing more than one Tallit, please indicate in the comments box (during checkout) which Talis you would like this Atara sewn on to.
Underlaying Lining
The standard Atarah, includes a free white satin that it is attached onto. We can add other custom linings.