Styles #20 #21 and #25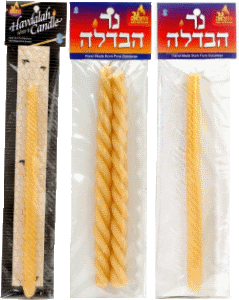 The Ner Havdalah is the traditional braided candle used by European Jewry at the close of Shabbat for hundreds of years.
This candle is handmade from 100% natural beeswax, which gives it a delightful aroma, while the light of its multiple wicks serve to remind us of the Creation of light, given to Adam and Eve at the beginning of time.
Every week we are renewed and reminded of our ultimate purpose.
For the Chuppah
It is an old custom for those escorting the bride and groom to the huppah to carry candles in order symbolically to light the way of the bride and groom as they begin their future life together. On a number of occasions the Gemarah refers to candles or lamps in association with weddings.
נר הבדלה
הבדלה נר הוא נר קלוע המסורתית השתמשו ידי יהדות אירופה בסיומה של שבת כבר מאות שנים.
נר זה הוא בעבודת יד מ'שעוות-דבורים טבעית 100%.