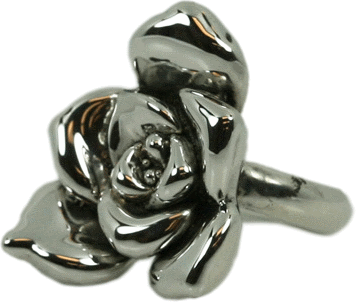 Thank you for your interest in our amazing line of sterling silver products and silverware. These items are created using the electroforming process described below. All our silver products have a clear coat on top to prevent tarnishing.
The designs are made using the electroforming process, which is the formation of a layer of sterling silver over a mold of resin (similar to hard plastic). This method allows the creation of beautifully designed sterling silver sculptures and silverware with stunning detail in any shape or size without the heavy weight and cost that is typical to conventional solid sterling silver.
The electroforming process is when the artist takes the resin mold and puts it in a tub of charged sterling silver. Over a 10-12 hour process, the sterling electrically forms (i.e. electroform) itself to the mold. Then, the artist removes the piece and handcrafts more details, including oxidation for depth. After the final designs, a clear coat is added to the product.
What's the Difference between Electroformed Sterling Silver and Silver-Plated?
There is a vast difference between electroforming sterling silver and silver plate. As opposed to the electroforming process mentioned above, silver plating is not sterling silver. With plating, a mold is quickly dipped in a silver-colored metal alloy. The process takes seconds and the silver alloy will not last a long time. There is an immense difference in the quality.