תיק לכביסת הציצית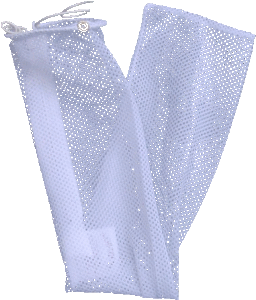 This zippered mesh wag bag is essential for washing your Tallit Kattan (Tzitzit) properly and safely.
The Tangle Free Solution
The tangle-free solution to washing Tzitzis and Talis Katan.
A convenient knit bag to help stop Tzitzit-strings from being tangled in the washing machine. Reuseable - good for about 100 washes.
Imported from Israel.
See washing instruction diagram; Read more about washing Tzitzit.
Also recommended: Permanent Knot: Kesher Shel Kayama.