סדר סעט #750 לפסח: Silver "הלילה הזה כלנו מסובין"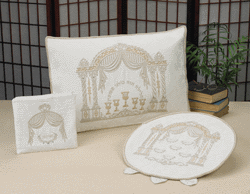 Enhance your Seder with this Pesach Set! The Torah commands us to sit as a king on the night of the Seder, and there is no better way than with a Pesach linen set.
Set includes:
Matza cover
Pillow case
Afikomen bag
This Seder pillow case, which fits a standard pillow, has an exquisite design of an elaborate arch with double pillars, The Arba Kosot, and the Hebrew words הלילה הזה כלנו מסובין across the center. A silver-only embroidery, on white elegant brocade material.
The Matzah cover, measuring 19½ inches in diameter, has the same design, but has the layout of the six traditional items(more). It has dividers for three Matzot: Kohen, Levi and Israel.
The Afikoman bag has part of the arch, with the Hebrew words אפיקומן.
With a matching high quality Matzah Cover and Afikomen bag, your table will truly feel like a Shulchan Melachim.