Available in Different Variations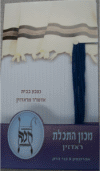 The Radzin Techelet Tzitzit are made according to two different customs: the Rambam tzitzit are only half blue threads (the other half are white), and the Ravad Tzitzit are completely blue. Both are available in thick or thin.
All Techelet are Avodat Yad, Kaful Shmoneh, with dyeing and spinning done by hand.
See options below. Read more about Techelet.
What's Included
The blue Techelet Tzitzit Chutim for all four (4) corners. White Tzitzit strings are sold separately.