To be Held by the Parents Under the Chupah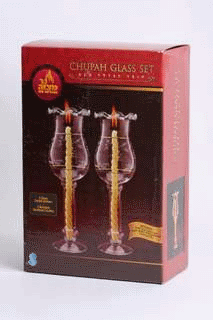 These Chuppah glass candle-holders will protect you from dripping wax, and also protect the candles from any outdoor winds.
Two (2) free candles included.
The Chuppah-Havdalah candles are customarily (Minhag) held by the parents of the bride and groom, while circling (along with the bride) the groom underneath the Chupah, and left burning till the completion of the Sheva Berachot under the Chuppah.
Traditions may vary, please check with your Rabbi.
Read more about the Chupah.