Model #LACSLBL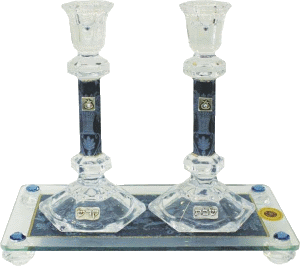 Blue elegant Candle Sticks with pomegranate appliques, hand-made of glass and crystal by Lily Art.
Also on the base of each candlestick, appliques collectively saying Shabbat Kodesh.
Accompanied by a matching designed tray.
The candlesticks measures at 7½ inches (19 cm) tall, while the matching tray is 10 by 5 inches (25½ by 12¾ cm).