Model #21081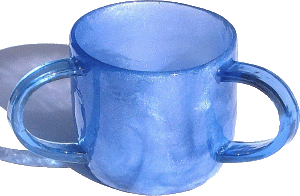 This durable acrylic Netilat Yadayim wash cup has been designed by Ronit Akavia in Israel. His famous collection pieces adorn many homes throughout the world! The cup is made of durable acrylic material, blue decoration of a solid pattern.
Beautifully designed blue decorated acrylic Netilat Yadayim wash cup.
Stands elegantly, easy to wash your hands with.
Imported from Israel.
Great for Shabbos, Yom Tov, and the Holidays to use for washing hands. Will add decor to your kitchen or simply anywhere! This is a wonderful ornament for the Friday Night dinner table.
Traditionally, washing hands is a symbol of cleanliness, purification and holiness. Use this washing cup to enhance the atmosphere of your home.