By Yoel Waxberger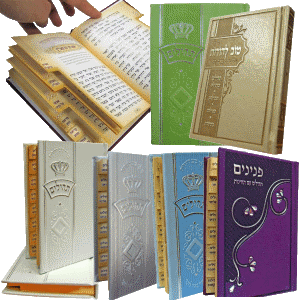 טוב להודות פנינים עם תהילים ע"י יואל וקסברגר
Now you have it all in one!
See Large View | Index | Open Book
The Tov LeHodos Peninim has tabs that includes Tehillim and all the following prayers and Segulahs:
Perek Shira
Shir Hashirim
Nishmat Kol Chai
Igeret Huramban
Tefillat Hashlah (Tefillot Avot Al Bonim)
Parshat HaMon
Kriat Shema: Ashkenaz and Sefard
Birchat Hamazon: Ashkenaz and Sephardic
Tefillat Haderech
Segullah to Find a Lost Object
Prayer Before Hafroshat Challah
Hadloket Neirot
Prayer for Luck
This amazing book isn't just Segulas, to conclude it, it has Tehillim Mechulik with tabs for each day of the week.
Available in light blue, gold, green, purple, silver and white.