One full Kiddush Cup with Six (8) Small Cups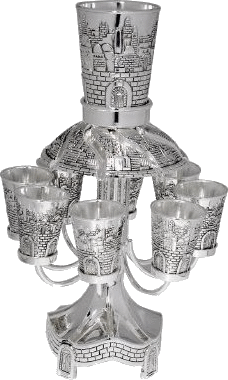 This Kiddush Fountain (a.k.a. wine fountain) is a 10-piece set consisting of 8 cups, 1 large cup, and the footed fountain.
Detailed Old City of Jerusalem motif.
The fountain stands over nine (9) inches (23 centimeter) tall. Each small cup stands around two (2) inches (5 centimeter) tall, the host cup stands around 4 inches (10 centimeter) tall.
Can be used for the Sabbath (Shabbat), the High Holidays, Passover or for any occasion! You fill the large wine cup at top, and then pour the contents into the top of the fountain - the wine flows down in 8 streams which divides the host wine into 8 equal smaller portions! Not only dramatic, but a little more sanitary than passing around the glass.
Made by Karshi, a top name in Judaic ritual objects. The fountain requires no electricity.