6 Ounces; Model 213800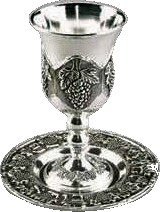 This nice set of stainless-steel cup with a stem (leg) and a matching tray is nice and traditional. It will last and won't tarnish or discolor.
Detailed Description
The cup has a pattern of large grapes engraved. The grapes are nice and detailed. The cup stands tall on a stem (leg) to stand out on the table.
The tray has a matching grape design, and has the words Borei Pri Hagofen embedded within the design.
Discounts and Promotions
Wholesale discounted prices available when purchased in quantity