Model #LAHSBN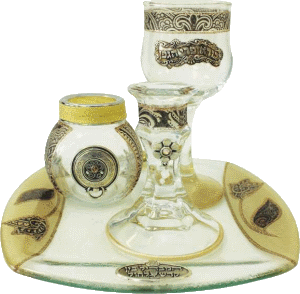 Brown elegant Havdalah set with appliques saying בורא פרי הגפן, hand-made of glass and crystal by Lily Art with a tulip theme.
The Havdalah set includes a Havdalah Cup, candle holder and Besamim bottle. Accompanied by a matching designed tray with applique saying המבדיל בין קדש לחול.
The Havdalah cup measures 6 inches (15¼ centimeter) tall and spice holder is 3½ inches (9 centimeter). The matching tray is 8½ by 8½ inches (21½ centimeter).
Great gift idea.