Model #21341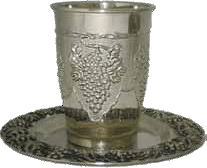 Enhance your shabbos table with this uniquely designed nickel-plated Kiddush cup.
Detailed Description
The cup is has large grape-bunches engraved.
The matching round tray has a matching grape theme.
Imported from Israel
Crafted from genuine nickel material
Two piece set: cup and coaster
Discounts and Promotions
Wholesale discounted prices available when purchased in quantity.