עטרה עלה משולש מסורתי כסף וניקל - סאטמאר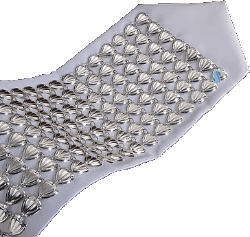 Enhance your Tallit see selection with this beautiful silver and nickel Atarah. Like the sterling silver version (D-10), this Atarah is made of pure silver poured over nickel, creating a beautiful-looking genuine silver Atarah. The materials are electrified, guarantying a long lasting quality. Unlike silver-plated Atarahs, the silver of this Atarah won't come off after several polishes or from wear and tear.
The Atarah has been linked by hand with extra strong links.
Lacquered for tarnish resistance mounted on rayon satin fabric.
This Atarah is also known as the Satmar Atarah (Satmar on Wikipedia).
Attaching this Atarah onto a Tallit
You may add the service of sewing on a Atarah onto a Tallit to the cart if you want it done. If you are purchasing more than one Tallit, please indicate in the comments box (during checkout) which Talis you would like this Atara sewn on to.